And For 1969... PIX
Interesting that I don't have a single 1969 vehicle in my display case, or even in progress. Interesting because this is the era when I was most aware of cars as a kid and very into the new car offerings. So here's a few from my old built up collection. I will provide some reminiscing ...
1969 Chevys... black kit and white promo. This is no doubt my favorite 1969 model because during this year, I lived within walking distance to AC Chevrolet in Jersey City, NJ. I spent a lot of time there looking over the cars and I became friends with the sales people who thought it novel that this rather small 11 year old knew all the specifications to the cars as well as they did. They never had a problem with me raiding the brochure rack, and those 1969 mini poster papered my room. In fact when they were throwing away large posters they gave them to me. Salesmen would even take me for rides when they were gassing up cars, or running errands. Something that wouldn't happen today! Anyway, I have a great fondness for the '69 Chevy!
I was still in the USA when the 1970s were revealed. I remember running all the way to the dealership from school on the day they were coming in. I didn't like the new Impala. I thought the '69 was a much nicer design. Little did I know that as an 18 year old I'd be driving a 1970! I got used to the design!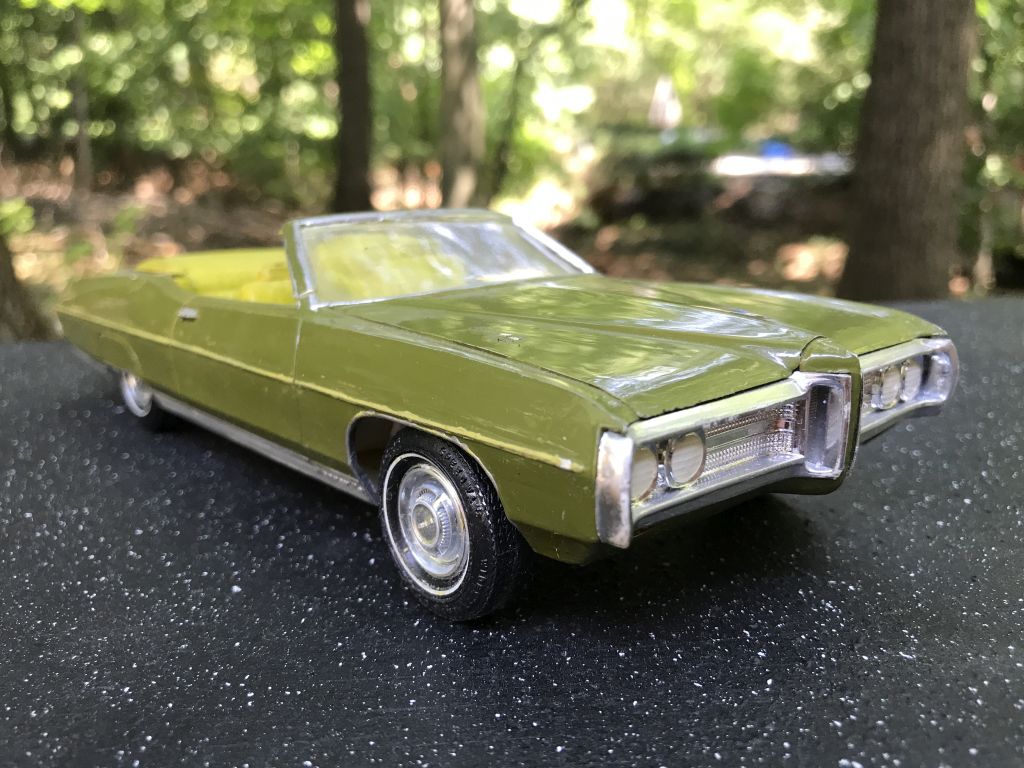 And a 1969 Pontiac! I find this to be the most attractive of the 1967-70 era of the full size Bonneville. I owned the '67 and '68 for a long while, both came to me in the same collection, and I do have the reissued 1970 convertible plus a resin hardtop body, but I searched for a decent '69 for a long time. I had my eBay search set and would check out the findings as I was emailed. There were a lot of cars much higher priced than I wished to pay. There were cars I lost in the bid process. And finally I go the right car at the right price! This one is nice enough that it sits in my display case until the time comes to restore it. And the way I move, that may be never!
I remember each of these cars up close and personal because my uncle was an investor in a Pontiac dealership, and as such got a new one every year. Of course his were coupes and sedans, and I remember when he brought home the 1970 model, which to my young eyes was a travesty to the design evolution of this car. I never liked it, but as I've mellowed over the years, I'm good with it today in a historic sense. A few years ago I encountered one on the road and was surprised at how different it appeared in 1:1, and from my childhood memories.
I like the color combo, the builder was no doubt trying to match Verdoro Green, which every third Pontiac of this era was painted!

And why not a class picture? Here's the 67, 68 and 69s. I did grab up a couple of the recent '70 kit on Hobby Lobby clearance for parts to restore these to current standards.
And why not some Opel GTs? I have this pair in my collection. Funny thing is that I got them both from different places at different times, but they are near twins. I want to redo these in the typical Opel GT colors, like the bright orange and yellow. I'm planning on doing one with the headlights open. Wheeler Dealers did an episode on these that you can watch in reruns or on demand.
And here's a Maverick... Hey, the Maverick came out in 1970! Actually, it was released very early in 1969 as a 1970 model, so I'll include it here. I remember going to the New York Auto Show on Easter week in 1969 and the all new Mavericks were on display. My aunt bought a red one and the dealer gave her a promo along with it, which she gifted to me! And I know this was the summer of '69 since we left NJ for Germany in September 1969. And this one is a 1/32 scale Maverick along with a Ford Granada. Funny thing... I had a couple of these Mavericks and both of the ones I posted on eBay sold to someone in Brazil. Mavericks were sold there and updated beyond the USA models. They are big collector cars there!