I've only ever developed one decal - it is for a funny car - and it has been stolen/copied by another decal producer - who also stole the pic of the model I built with my decal!! Annoying!! *PIC*
A few years back, I did most of the decal art for the 1971 Phil Castronovo Custom Body Mini Charger, and a fellow by the name of Chuck Boerner did some finishing work, made some nice additions, and printed the decal and sold it on eBay. The final decal he sold even had "Copyright Chris Williams 2013" on it.
So imagine my surprise when I get an email from Southern Motorsports Hobbies today offering that decal, printed by someone called Yesteryear Decals, and using a Fotki picture of my finished model to promote it!!!
Whoever makes this decal left they layout exactly the same as Chuck and my layout, and changed just a few details. The used a slightly different font in a few cases, changed the size of some sponsor decals, made the grill a bit different, removed some ellipses after the words Custom Body, etc. So in the end the decal is no longer accurate. But it is 100% obvious the decal is copied. They must figure by making a few tweaks they will not have copyright issues. It is particularly annoying they are using my model to promote the decal - when in fact those decals cannot be used to replicate my model!!
I emailed Ronnie Setzer at SMH and asked him to remove the pic of my car from his Facebook page and future marketing, but he has not done that yet. There probably is not much to be done about the decal, but if someone wants to make a poor replica of the real car, this is the decal for them!!
First, here is the real decal: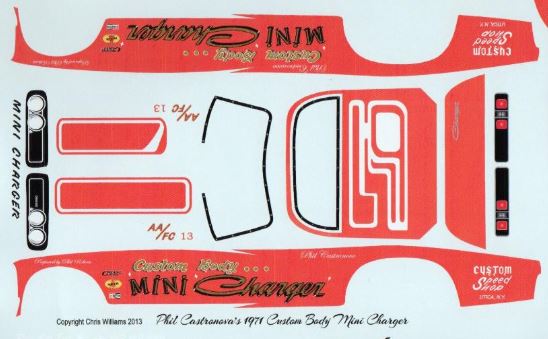 Here is the pic of the SMH Facebook post and MY photo of MY build. Does the decal happen to look sort of familar??