Time once again to momentarily dismiss our many challenges of the moment, and engage in the following On-Line How-To idea-fest.... *LINK* *PIC*
Tim Boyd On Line Model Car How-To #14 - Kitbashing Revell's '29A Rod
Here are some building ideas based on Revell's recently reissued '29 Model A Ford Hot Rod Roadster kit, as well as one idea based on their 1930 Model A Five Window Coupe kit which is hopefully to be reissued in early 2021.
******
First up - a 1929 Highboy on 1929 Model A frame rails (instead of the more commonly seen 1932 Ford rails). It's based on the kit's Z'ed Model A frame. Model A Highboys based on Model A frames are not nearly as popular as Highboys based on the Deuce frame, but they are seen and often are older restored rods, or new rods build in the old school style. This one uses mostly kit components, modified to accommodate the Model A Highboy/Model A Frame configuration, along with these changes:
* BareMetal Foil applied to the brake backing plates, with color insert accents
* Chrome Firewall
* Hairpin front radius rods (in place of the kit's split Model A rods
* Larger OD rear tires, that also match the tread pattern and sidewall patterns of the kit front tires
* Dual Four Barrel intake, carbs, and air cleaner
* Holthaus Steelies with Chrome Spyders
* Pinstripes from Revell's '50 Olds Custom kit.
Paint is Tamiya, Pearl White with Clear on the body, Maroon interior/brake packing plate inserts, and Dark Blue driveline/wheels (it appears black in pictures, but in reality its a dark, midnight/navy blue). The full buildup was covered in an issue of Model Cars magazine a few years ago.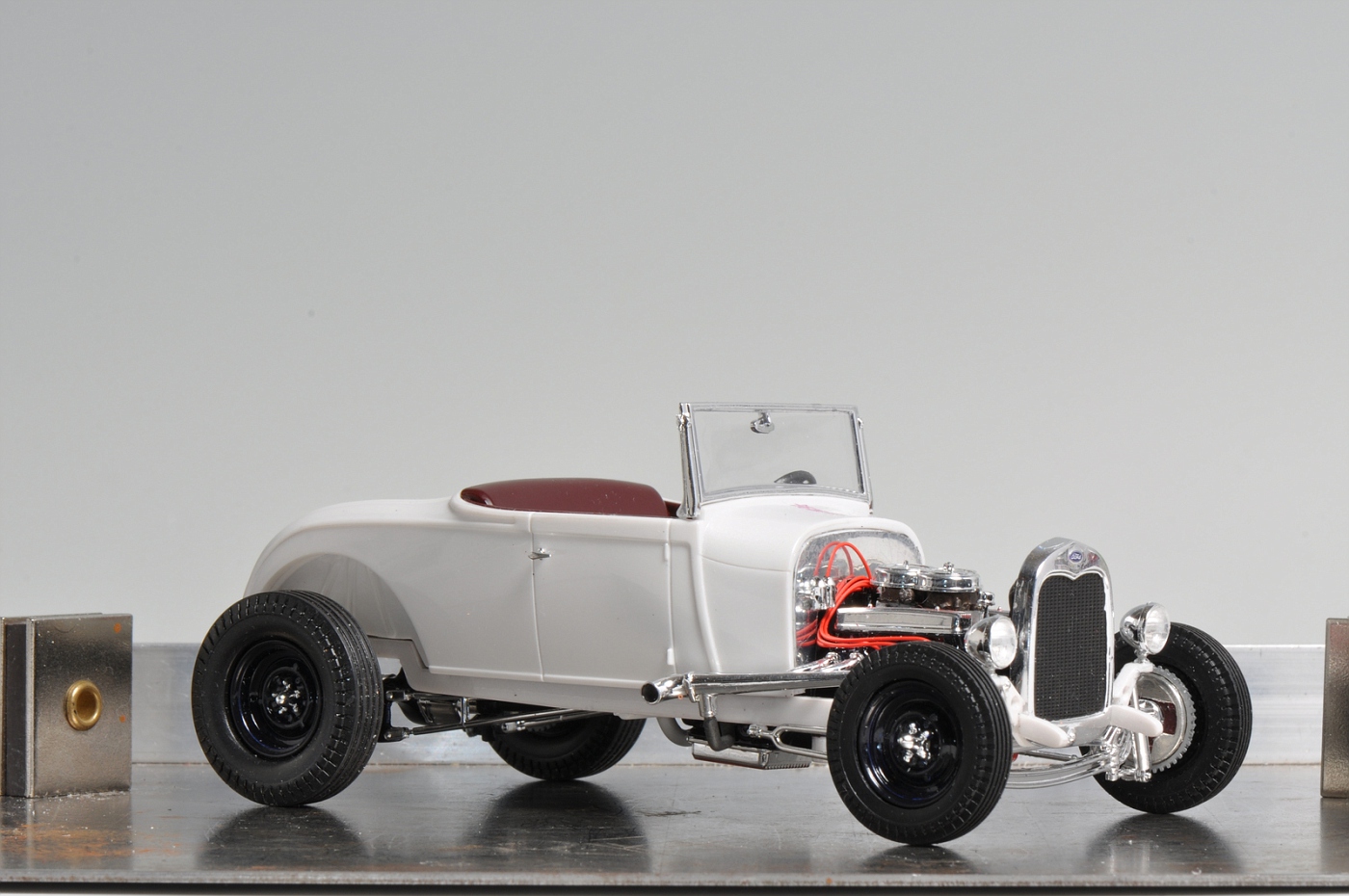 ******
Next up? A '30 Chopped A coupe, employing the extra, unused parts in the new Revell '29A kit, with the '30 A Five Window Coupe body from Replicas and Miniatures of Maryland. It also includes;
* Tall/'n/taller wires and whitewalls
* A hot rodded '59 Cad engine based on the stock engine in the Monogram 1959 Cadillac Eldorado kit, with hop-up accessories from the Revell Cadillac Engine Parts Pack
* Real (via MCW Auto Finishes) 1936 Ford Washington Blue paint with an overcoat of Tamiya Flat Clear, with accents in Testors Model Masters Lacquer pale yellow paint.
The overall vibe is very much "Race of the Gentlemen" (other than perhaps the post-WWII Caddy engine) as opposed to the "spit/'n/shine" gloss of the Roadster discussed above. This one was also covered in a full build-up article in Model Cars magazine.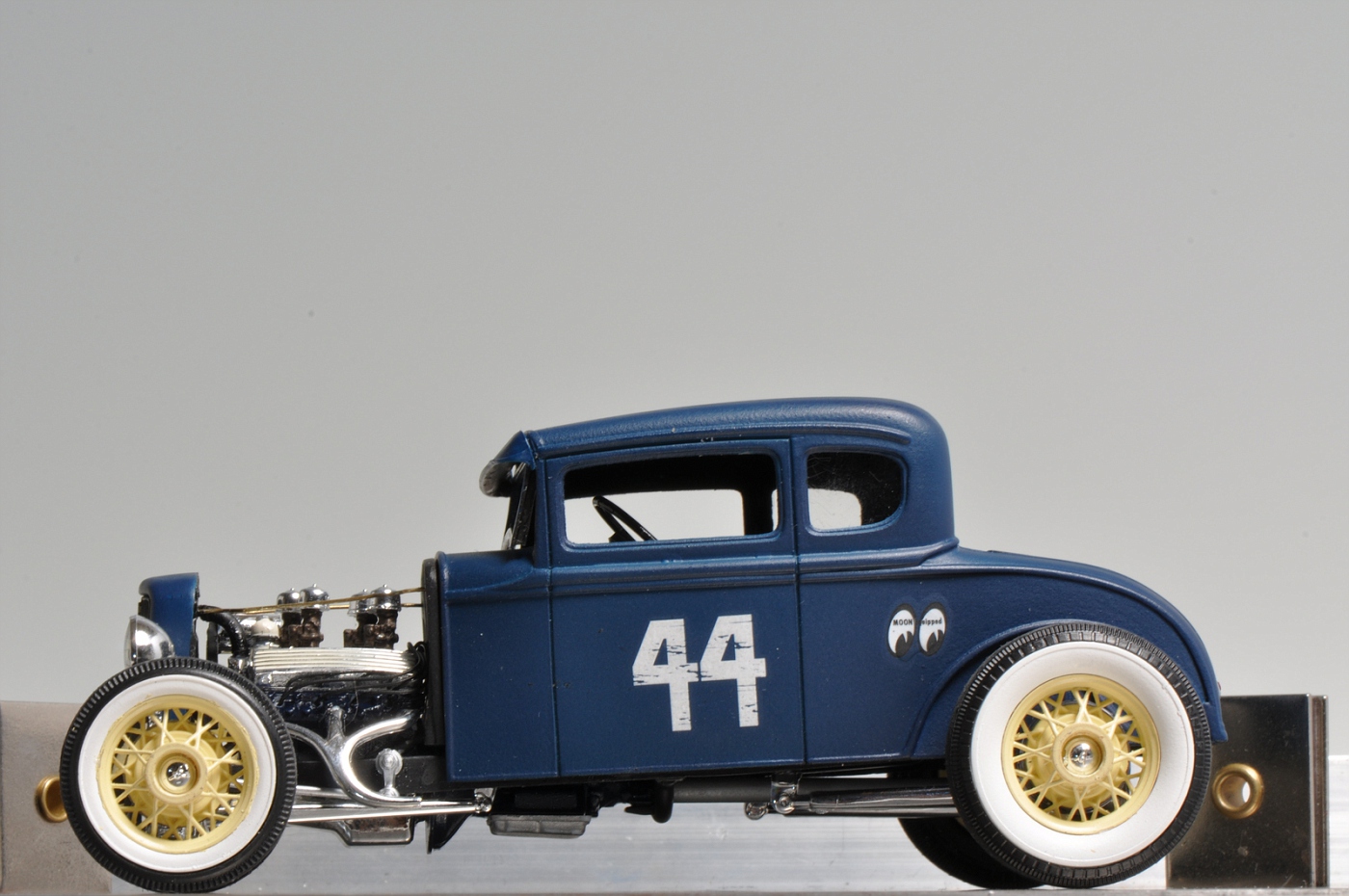 ******
Yet another kitbash, this one takes the somewhat aesthetically challenged (in the view of some kit critics including myself) box stock Channeled Roadster version of the Revell Model A Channeled Rod and applies some tweaks to make a more appealing result. Changes include:
* A vertically sectioned radiator shell to reduce 50% of the kit width,
* Chopping the kit's windshield and frame.
* A sectioned '32 Ford Grille Shell and insert from The Model Car Garage
* The 390 cubic inch Ford FE engine from the Round 2 AMT '60 Starliner kit, and wheels
* Tires from the Revell Miss Deal Studebaker Funny Car kit
* A simulated aluminum, flush firewall cement the design vibe to the 1963-67 hot rodding time frame.
* A further lowering of both the front and rear suspension
* A Halibrand Quick Change out back.
The color is MCW Automotive Finishes special order '56 Lincoln Island Coral, and the interior upholstery is Testors Model Masters Lacquer Ford Wimbledon White with Tamiya Flat Clear. Check out the photos starting at image # 22 for the latest details. (Some details of this build are inspired by an Andy Southard photo of the Paul Hannon channeled '29A Roadster leaving the Monterey Kar Kapades on March 4, 1962 (source: p. 32, "Hot Rods and Customs of the 1960's, Andy Southard, Jr, 1997, Motorbooks International)).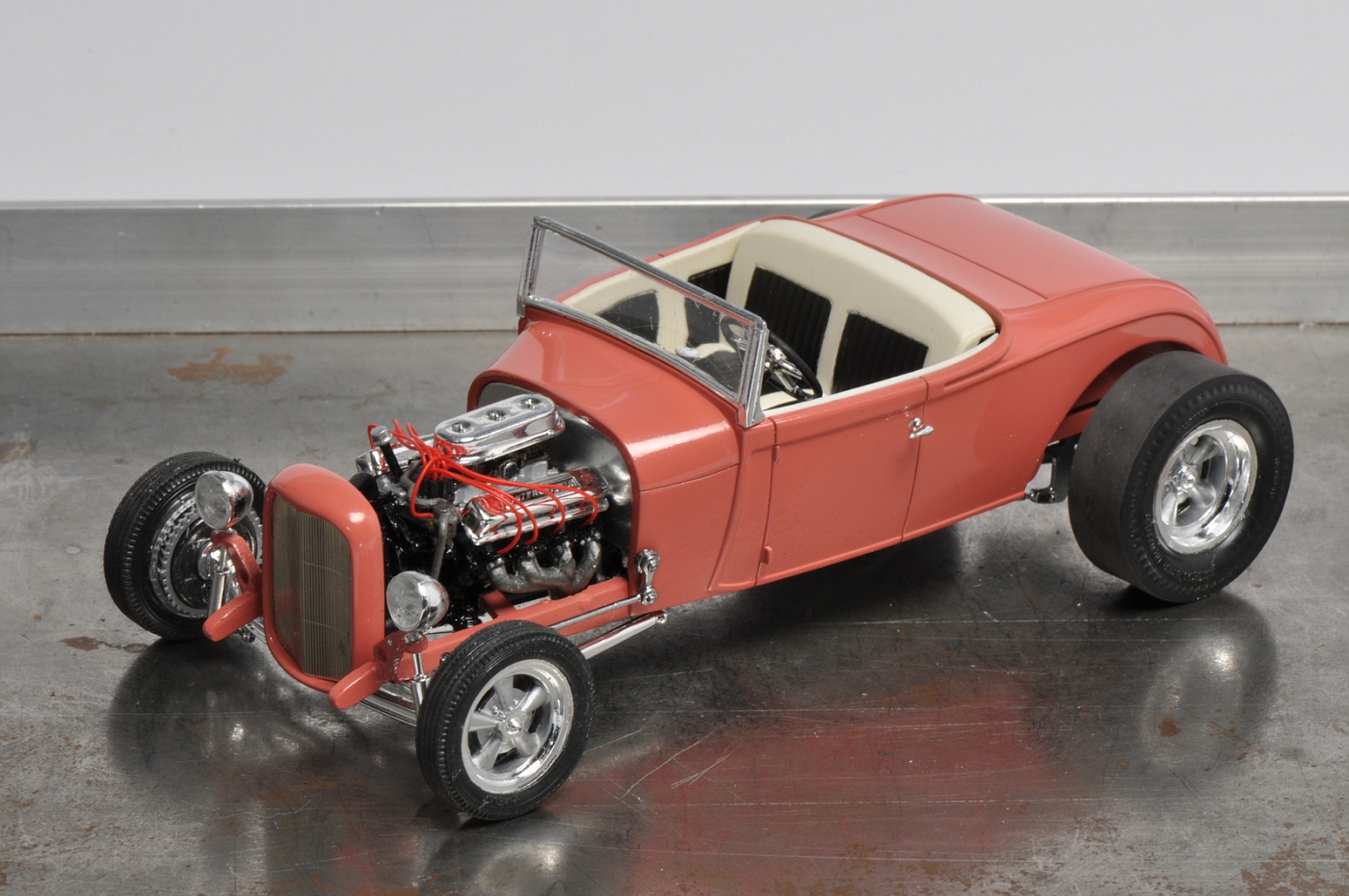 ******
And finally, Revell's 1930 Model A Ford Five Window Coupe was available only for a couple of months before a production interruption made it an instant 3-digit collectible kit. It is hoped to return to the market in early 2021. While it was available, I did a kitbash that included:
* An open roof with wood bows
* A Flathead Ford V8 engine conversion
* A Halibrand Quick Change out back, and
* And some very cool 1941 Ford hubcaps (from the AMT-Ertl stock version 1941 Ford Wood kit).
The scallop decals were from the Revell kit, but with the top portion modified (it was printed in reverse in error on the decal sheet). The paint was Testors Model Masters Lacquer 1968 Ford Thunderbird Light Diamond Green solid, with Tamiya Flat Clear on top. More details on this build are in my "Hot Rod Hints" #1-#4 series in my On-Line How-To album series here at Fotki.com/fuman1712.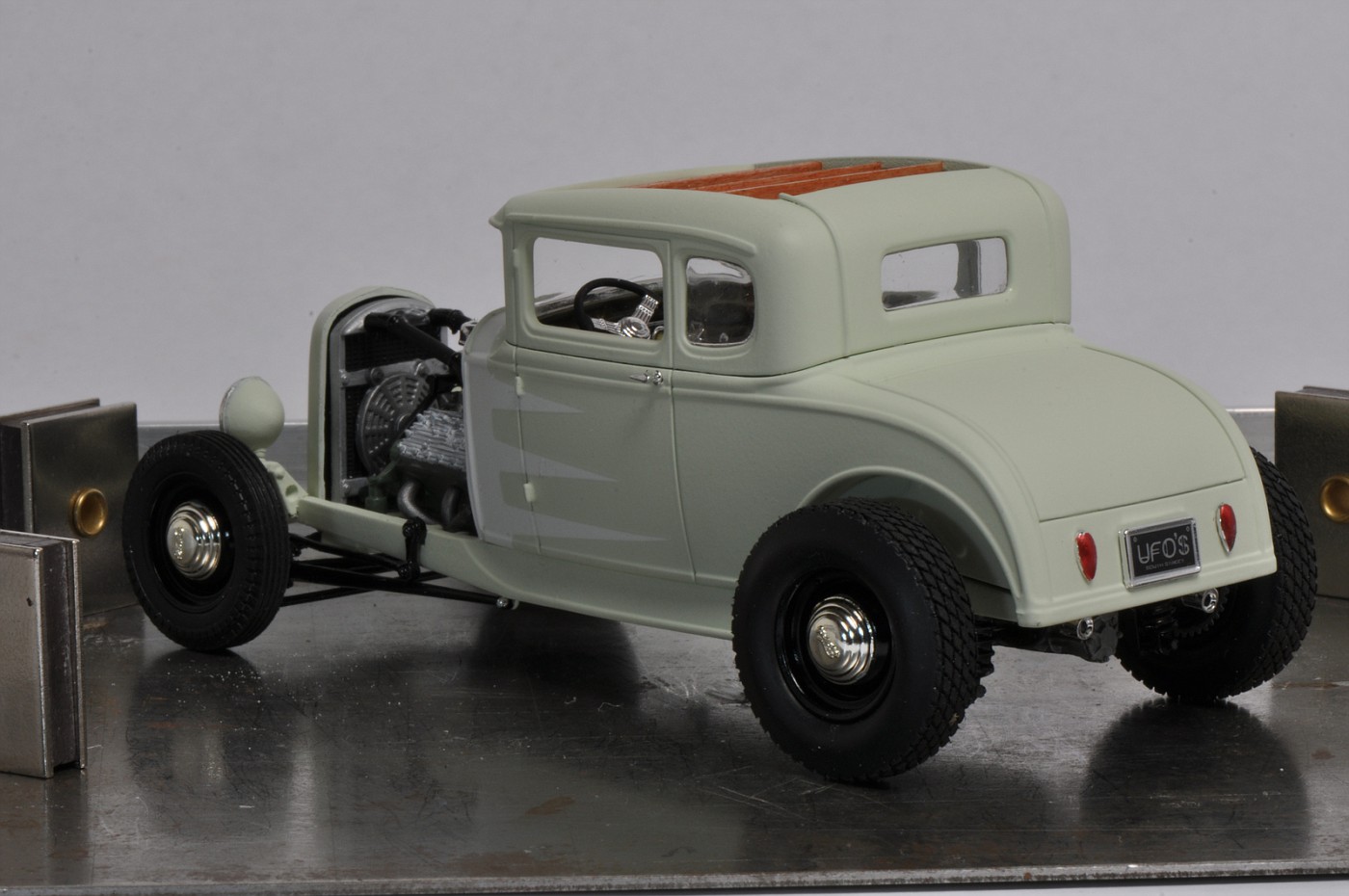 ******
One final note on kitbashing the Revell Model A Hot Rod kits - while the Revell 1930 Model A Five Window kit is not available at present, and Norm has stopped casting his 1930 Model A Five Window, I've been told that Drag City Casting now has a chopped 1930 Model A Five Window body available. I haven't seen it myself, but other recent products from Ed at Drag City Casting I have purchased are among the finest resin bodies I've ever seen. Something to keep in mind if you have a Model A Five Window jones that can't wait for the rumored reissue of the Revell kit sometime early next year....
Thanks for looking, and have fun building and kitbashing your own Model A Hot Rod models....TIM